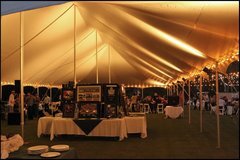 Par Can Lighting (Per Light)
Nothing makes your special event more magical than the perfect lighting. We rent individual Par Can Lights that generate a highly directional light beam ideal for use at your party, wedding reception, concert, banquet, or special events.
Price: $50 per light
Electrical Requirements: The power source should be within 50' (If none, ask us about renting a generator and extension cord)
* Prices are subject to change.
* Please call/message us at 704-377-5867 to determine how many are needed based on the square footage of your tent.