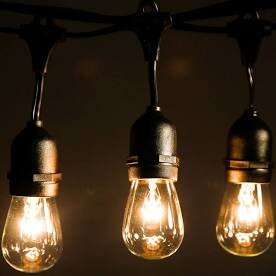 Cafe String Lighting (Per Ft)
This Cafe String Light is perfect for indoor-outdoor use, patio, market, Christmas parties, weddings, special events, or any occasion bringing you a fantastic moment.
Price: $1.50 per foot
Electrical Requirements: The power source should be within 50' (If none, ask us about renting a generator and extension cord)
* Prices are subject to change.
* Please call/message us at 704-377-5867 to determine the style and length needed based on the square footage of your tent.