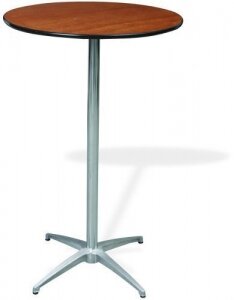 30" Round Cocktail/Bistro Table
This 30" round Cocktail Table can be a standard table height or bar height column. This 30" round bistro or cocktail style table can be used as a high table at a 42" height, or 36" allows you to optimize your space when setting up for different events. Enhance the look of your event with the cocktail table configuration by adding a table cover for some of your own flares!
Other Fee: When renting Tables there is a $95 Delivery Fee, if not rented with Tents or Inflatables. There is an additional charge for Tables Setup, $1/table as setup & take-down fee.