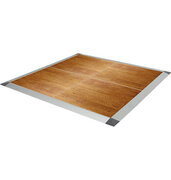 12' x 16' Dance Floor (American Plank)
12' x 16' Dance Floor (American Plank)
Our 12'x16' Dance floors are great for events all year round! This is ideal for indoor and outdoor events, performances, shows, and wedding receptions. It has built-in subflooring that keeps it from being soaked up if needed to be placed outdoors.
Price: $480
Requirement: Should be under a tent or indoors. (Rain or shine.)
Other Fees: $125 Delivery Fee (if not rented with Tents or Inflatables)
Area: 196 sq. ft
Actual Size: 12'x16' (Including the trim on each side.)
Section: 12 sections
Total # of Dancers: 48 dancers at a time
Must be placed on a fairly flat, even surface.